Hot spring "Ginga no Yu" / large open-air bath / dry sauna
Spend a relaxing and comfortable time in the great nature of Minotani.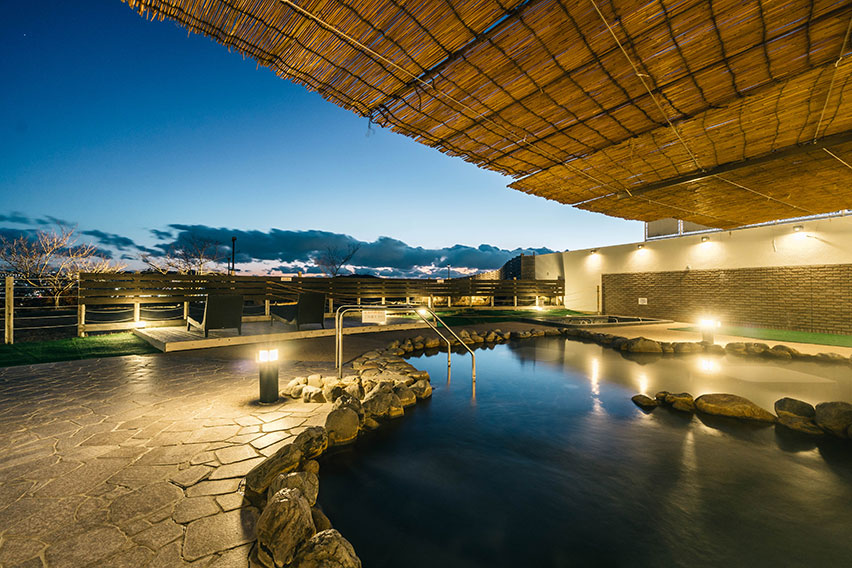 At Ginga no Yu, you can have an overwhelming sense of freedom, and the free-flowing natural hot spring water while gazing at the countless stars in the sky at night. Please enjoy a relaxing and comfortable time in the midst of Minotani's great outdoors, relieving fatigue from the very core of your body. You can also enjoy feeling the "fitness(totonou)" in the dry sauna.
Information
Mysterious hot spring "Ginga no Yu", is a sacred and legendary place from ancient times

It is located on a hill of 280 meters above sea level, overlooking the Kita Ward of Kobe City, in a richly wooded area surrounded by the Niu Mountain Range. On a solid bedrock, it is relatively cool in summer and is called the Karuizawa of Kobe. In winter, the average temperature is 3-5°C lower than in the center of Kobe City, but it rarely encounters snowfall.
Seeking the romance of primitive nature 75-70 million years ago, Ginga no Yu uses a luxurious 330 liters per minute of natural hot spring water gushing out from 1,200 meters underground.
The quality of the spring is a simple, weakly radioactive, which is rare, precious, and highly effective among hot springs.
Radioactive springs are known as hot water for all diseases or for gout.
A pH value of 7.5 or higher is said to be good for the skin, and Ginga no Yu's spring water has a pH value of 8.5, making it a very good hot spring for the skin.
The gush temperature is 37°C, which is very close to body temperature, making it a pleasant long bath.
You can also enjoy the panoramic view of nature from the open-air bath.
Please take this opportunity to visit "Ginga no Yu" to relieve your daily fatigue.

Spring quality

Simple weakly radioactive spring (radium and radon)

The effects of hot spring

Indications by spring quality
Hyperuricemia (gout), rheumatoid arthritis, ankylosing spondylitis, etc.
General indications of sanatorium springs (for bathing)
Chronic pain or stiffness of muscles or joints (rheumatoid arthritis, osteoarthritis, lumbago, neuralgia, frozen shoulder, bruises, sprains, etc.), muscle stiffness due to motor paralysis, sensitivity to cold, peripheral circulation disorders, decreased gastrointestinal function (upset stomach, gas in the intestines, etc.), mild hypertension, abnormal glucose tolerance (diabetes) Mild hypertension, glucose intolerance (diabetes), mild hypercholesterolemia, mild asthma or emphysema, hemorrhoid pain, autonomic instability, stress-related symptoms (sleep disorders, depression, etc.), convalescence, recovery from fatigue, health promotion

Types of Onsen

Large bath, large open-air bath, natural free-flowing bath, jar bath, lying bath, bubble bath, and hitting bath (*Dry sauna is also available.)

Operating hours (including dry sauna)

15:00 – 22:00 (last admission at 21:00)


※Glamping guests may use the hot springs free of charge.

※Re-entry tickets allow you to bathe as many times as you wish, including before and after meals.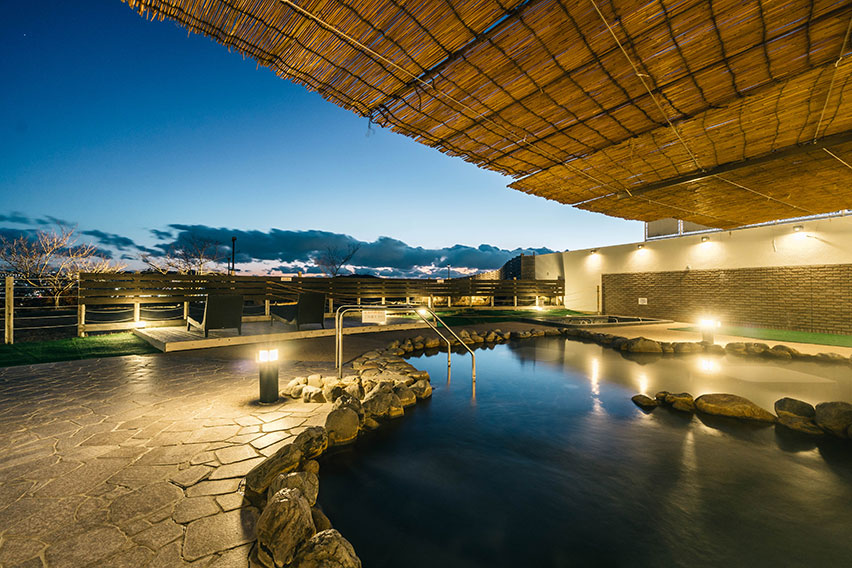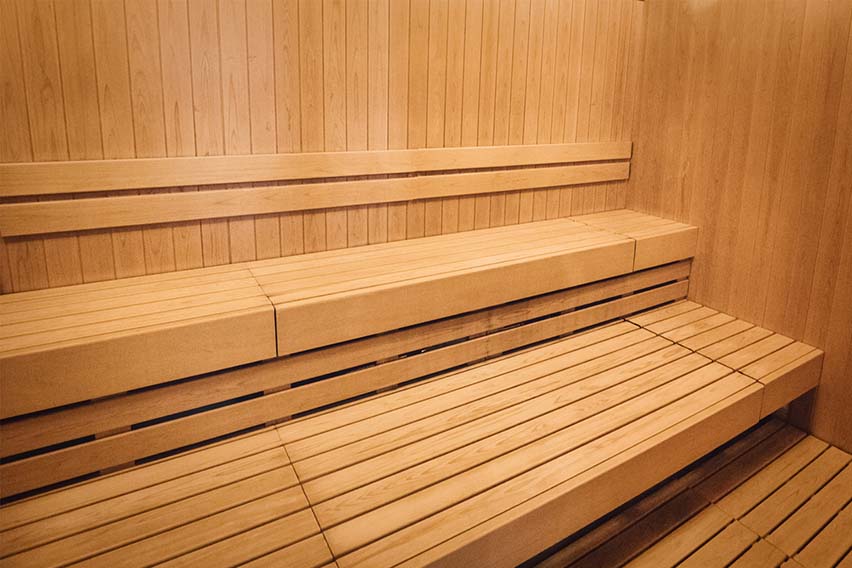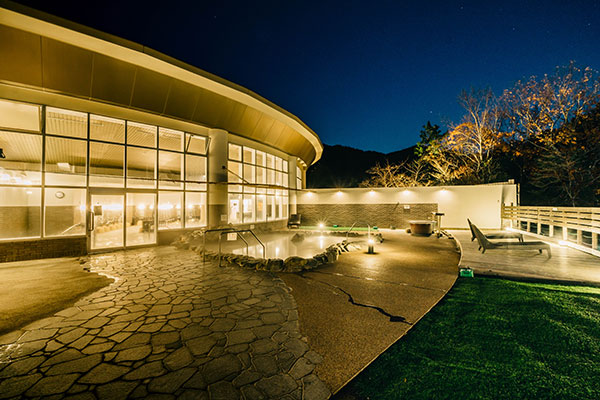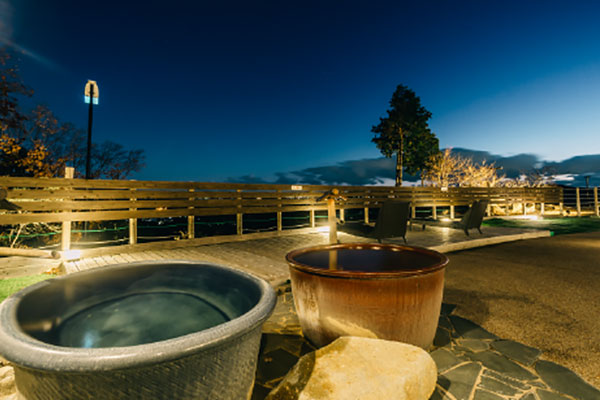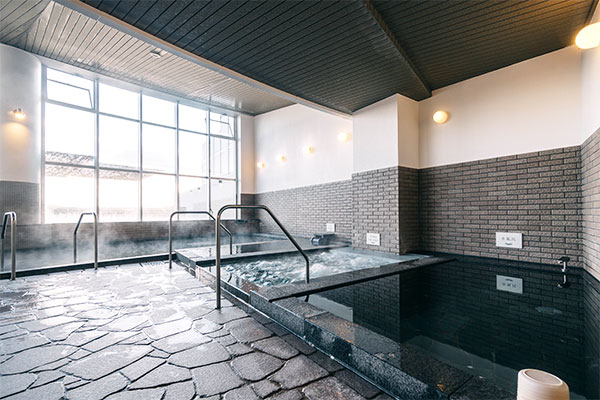 【For Glamping Guests Only】Bath in the morning is open.
Opening hours

7:00~9:00

Available baths

Large public bath, large open-air bath
※Please bring your towels from the dome.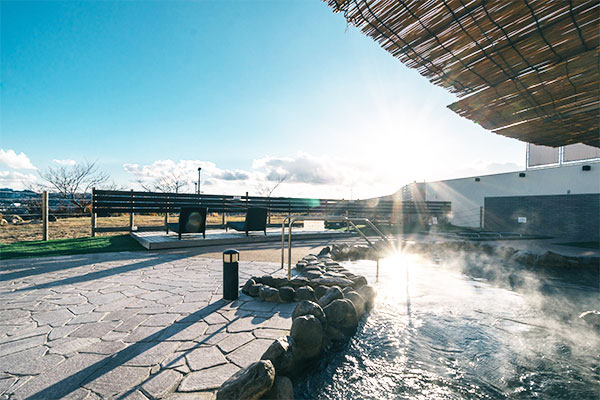 Fee
Weekdays
Weekends
Holidays
Adults (junior high school students and older)
850 yen (re-entry fee 1,000 yen)
950 yen (re-entry fee 1,100 yen)
Child (4 years old and over)※3 years old and under free of charge 400 yen 450 yen
400yen
450yen
Coupon tickets (11 coupons)
8,500yen
Guidance and precautions for use
Please purchase a ticket and bathing items from the ticket machine and hand it over to the front desk. Please note that re-entry is not allowed.
Shampoo, conditioner, and body soap are provided in the bathrooms, but please bring your own towels and other bathing items, or use the items for sale or rent.
Children under elementary school age must be accompanied by a parent or guardian.
Mixed bathing is not permitted for elementary school students and older.
We are not responsible for accident, injury, theft, etc. in the facility.
Food and beverages are strictly forbidden in the facility.
Drunken, people with tattoos, or those considered to be related to gangsters, and animals are strictly prohibited from bathing.
Those who are considered a nuisance to other guests may be asked to leave the facility.
Please do not bring cameras in without our permission.
About Early Bird Tickets
Tickets for KOBE TENKU "Ginga no Yu" can be purchased online in advance with a discounted price. Tickets can be purchased online with a credit card (external site). When entering, please show the ticket on the screen of your smart phone to the staff.